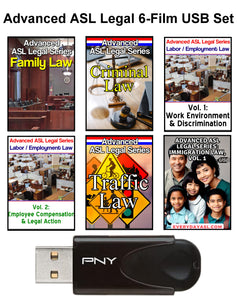 New! Advanced ASL Legal Series 6-Film Set USB Flash Drive
$69.00

$69.00

Save $280.99
---
---
Unlock unparalleled legal expertise with our exclusive "Advanced ASL Legal Series 6-Film Set" USB flash drive. This comprehensive collection of six full training films caters to professionals, families, and educators, offering both essential knowledge and significant savings.
Delve into vital legal topics with each title:
Advanced ASL Legal Series: Family Law
Advanced ASL Legal Series: Criminal Law
Advanced ASL Legal Series: Labor / Employment Law, Vol. 1
Advanced ASL Legal Series: Labor / Employment Law, Vol. 2
Advanced ASL Legal Series: Traffic Law
Advanced ASL Legal Series: Immigration Law
Immerse yourself in hours of enriching training, mastering countless hard-to-find words, phrases, ASL Classifiers, idiomatic expressions, and insightful discussions. This 6-film set empowers you with the knowledge to confidently navigate diverse legal contexts, elevating your ASL proficiency for impactful communication.
Ideal for interpreters, educators, students, and legal professionals, this comprehensive set equips you with the language skills to engage confidently in legal discussions within the Deaf and ASL community. Expand your horizons with this must-have resource on law in ASL.
Benefits from this set are: 
Learn how to express and engage conversation with elevated degree of familiarity towards various laws in ASL with helpful examples
Excellent for training courses and self-study plans
You will get an USB Flash Drive for ease of use via TVs, players and computers

Designed for interpreters, families, teachers, students and more
Optimized for ASL interpreting performance tests, ASL evaluation tests, ASL Proficiency Interviews (ASLPI / SCPI) etc.
Easy-to-follow training

Countless hard-to-find ASL signs seen and used in Deaf Community
Learn from Deaf Heritage ASL Professor
Like with most of our training videos, this film will have no audio for training purposes and some with open captions for convenient learning experience. Color and style of USB sticks may vary to ensure highest quality to you. The pictures shown above are for illustration only and are not printed on any materials. Ships free to continental U.S. 
This is a brand new USB flash drive and are in high demand. Please be patient as tracking information will be provided after product ships within 2-3 weeks. Thank you for your patience and support of our work.