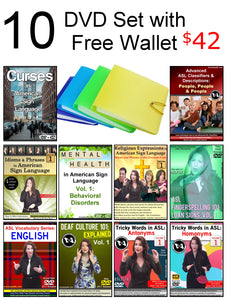 10-DVD American Sign Language Set + FREE DVD Wallet + FREE S&H
$40.00

$40.00

Save $455.50
---
---
First time ever at Everyday ASL University, 10 INDIVIDUAL DVDs have been put together as a brand new most popular films / sampler with FREE high quality & space-saving DVD wallet. FREE shipping & handling for this set.
The set will include the following 10 individual ASL DVDs: 
Curses in American Sign Language, Part 1 DVD
Advanced ASL Classifiers, Vol. 1: People, People, People DVD

Mental Health in ASL, Vol. 1 - Behavioral Disorders DVD

Idioms & Phrases in American Sign Language, Vol. 1 DVD

ASL Fingerspelling 101 Loan Signs, Vol. 1 DVD

ASL Vocabulary Series English

 

DVD
Deaf Culture 101 Explained, Vol. 1

 

DVD

Religious Expressions in ASL, Vol. 1 DVD

Tricky Words in ASL Antonyms, Vol. 1

 

DVD
Tricky Words in ASL Homonyms, Vol. 1

 

DVD
Every DVD is open-captioned and are without audio for intensive learning and teaching experience. A total of 10+ hours of ASL training from all DVDs. This set will only include all the DVD titles shown on the list above. Note: This is nonreturnable and nonrefundable product. Color, style and finish of DVD case/wallet as well as DVD choices may vary to accompany latest updates.

Please be patient - this product is extremely high in demand and we will take the best care of your order as timely as possible - between two and half to three weeks. Once shipped, you will receive free tracking information via email.
Thank you for your support of our life's work!