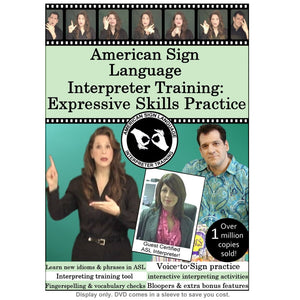 American Sign Language Interpreter Training: Expressive Skills Practice, Vol. 1
$26.50

$26.50

Save $23.45
---
---
Once again, being an ASL interpreter is a labor of love.   There are a number of steps and processes that every interpreter needs to use each and every time he or she interprets.  One of the fundamental abilities that an interpreter must develop in order to work closely and efficiently with Deaf and Hard-of-Hearing as well as hearing consumers is the maintenance and bolstering of expressive skills.

Throughout the 5 chapters containing ASL Storytelling in this video, Avery Ganezer will be narrating/interpreting about a fawn being rescued by a miracle helicopter and its pilot, the benefits of eating healthy pomegranates, a candy company owner and the history of the Christmas Tree at Rockefeller Center in New York City.  In every chapter, viewers will first see a complete story without ASL or open captions.  Then immediately following the story, there will be various exercises to aid you, as interpreters and ASL students to develop expressive skills:

1. Fingerspelling Check (including use of numbers)
2. Vocabulary Check
3. Idiom & Phrase Check
4. Short Sentence Check

At the end of this exercise, a complete story will repeat with ASL interpretations along with voice over and captions for reference, review and practice.  You will also receive complete text translations on screen for further training.  As a bonus, you will learn six additional commonly used idioms and phrases in American Sign Language.  Gilda Toby Ganezer, our ASL idioms expert, will present the idioms and then show you how to use them in complete sentences.

Finally, you will find our biggest ever bonus featurette which includes our unique bloopers plus a somewhat challenging sign-to-voice interpreting / expressive skills practice.  The subjects range from why onions make people cry to all kinds of candy flavors and yummy pistachios.