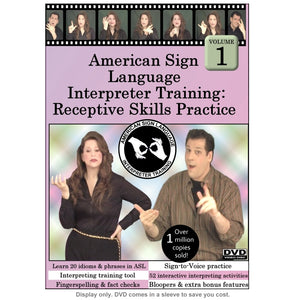 American Sign Language Interpreter Training: Receptive Skills Practice, Vol. 1
$24.00

$24.00

Save $25.95
---
---
Being an ASL interpreter is a labor of love.  There are a number of steps and processes that every interpreter needs to use each and every time he or she interprets.  One of the fundamental abilities that an interpreter must develop in order to work closely and efficiently with Deaf and Hard-of-Hearing consumers is the maintenance and bolstering of receptive skills.

Throughout the video, there will be 5 chapters containing ASL Storytelling where Avery Posner will be teaching about several animals in the Central Park Zoo as well as a dramatic story about a successful animal rescue operation.  In every chapter, viewers will first see a complete story without audio or captions.  Immediately following the story, there will be over 50 training questions four main activities to aid interpreters and ASL students to develop receptive skills: 
- Fingerspelling Check
- Fact Check
- Idiom & Phrase Check
- Sign-to-Voice Check

As a bonus, you will learn seven additional commonly used idioms and phrases in
American Sign Language.  Gilda Toby Ganezer and Avery Ganezer will present the idioms and then show you how to use them in complete sentences.

An ASL Music video along with series of bloopers will be included, also as a bonus feature!