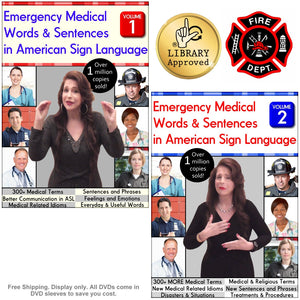 Emergency Medical Words & Sentences in ASL, Vol. 1-2 (2-DVD Set)
Emergency Medical Words & Sentences in American Sign Language, Vol. 1-2 (2-DVD Set) is a highly demanded DVD set that is best for every professional as well as sign language students and interpreters.  You will learn over 600 new vocabulary words and sentences in ASL along with open-captions and audio for easy learning.
Vital vocabulary groups include actions, everyday words, feelings, places, professionals & staff, recreation, relationships, disasters & situations, hospital terms, medical conditions, medical terms, religious terms, time, transportation and treatments & procedures; of which are being used among Deaf / Hard-of-Hearing individuals in all kinds of medical and emergency related situations.

Our easy-to-follow teachings and ASL guide will help you develop successful basic ASL communication skills during urgent situations.
Note: All DVDs will be in eco-friendly CD sleeves WITHOUT Amaray DVD cases to help customers save money. Each disc are clearly labeled for your convenience. The pictures shown above are for illustration only and are not printed on any DVDs.