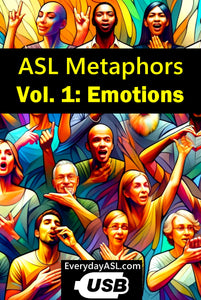 New! ASL Metaphors Vol. 1: Emotions USB Flash Drive + Free S&H
$24.95

$24.95

Save $104.05
---
---
Title: ASL Metaphors Vol. 1: Emotions
Description:
Embark on a captivating journey into the realm of ASL Metaphors with our inaugural film, "ASL Metaphors Vol. 1: Emotions." Guided by our esteemed Deaf Heritage ASL Professor, this immersive experience empowers you to convey a multitude of emotions in American Sign Language.
Explore the intricate art of specifically borrowing and integrating English words into ASL while honoring structural and cultural nuances. Learn to skillfully translate, define, and express emotions in ASL, forging a profound connection with the Deaf community.
In this film, we delve into a diverse array of metaphors related to emotions, each with its own unique ASL interpretation. You'll unravel the depth and subtleties of ASL Metaphors, unveiling a world of expressive possibilities.
Whether you're an ASL student on the path to fluency or an interpreter seeking to master emotional nuance, this series equips you with the tools to navigate the rich tapestry of ASL Metaphors. Join us on this enlightening exploration of language, culture, and emotion.
Benefits from this set are: 
Learn more on how to master ASL Metaphors in the EMOTIONS category with multiple examples, varieties, and situations




Excellent for training courses and self-study plans

You will get a USB Flash Drive for ease of use

Designed for interpreters, families, teachers, students and more

Optimized for ASL interpreting performance tests, ASL evaluation tests, ASL Proficiency Interviews (ASLPI / SCPI) etc.

Easy-to-follow Bilingual training with video aids

Countless hard-to-find ASL signs seen and used in Deaf Community

Heritage Deaf CODA ASL Signer / Professor
Like with most of our training videos, this film will have no audio for training purposes and some with open captions for convenient learning experience. Color and style of USB sticks may vary to ensure highest quality to you. Ships free to continental U.S. 
This is a brand new item and are in high demand. Please be patient as tracking information will be provided after product ships within 3 weeks. Thank you.