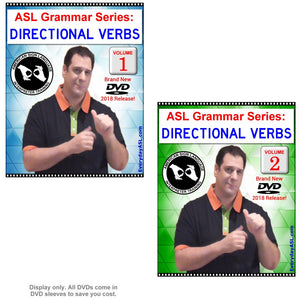 New 2-DVD Set - ASL Grammar Series: Directional Verbs, Vol. 1-2
It does not matter how many words you know in ASL when you do not know how to use them with proper grammar. We are proud to announce our very first ASL Grammar Series with the worldwide launch of our 2-DVD ASL Grammar Series: Directional Verbs, Vol. 1 and 2.
This new 2-DVD set will show you how to express and understand verbs with correct use of directionalities with 70 unique verbs along with over 150 sentence examples. You will also see all the correct uses of palm orientation, sign location, movement and facial expressions throughout the training DVDs.
Benefits from this 2-DVD set are: 
Learn hard-to-find directional verbs
Excellent for interpreters, families, teachers, counselors and more
Prepare best for ASL interpreting performance tests, ASL tests, ASL Proficiency Interviews (ASLPI / SCPI) etc.
Clear and easy-to-follow Bilingual training
ASL signs are seen and used in Deaf Community
Learn from Deaf ASL Professor
Like with all our training videos, all DVDs have no audio for training purposes and are open captioned for convenient learning experience. All brand new DVDs will be in eco-friendly DVD paper sleeve to help customers save money. Each disc is clearly labeled for your convenience. The pictures shown above are for illustration only and are not printed on any DVDs. Once the set ships, you will receive tracking information via email at no cost.