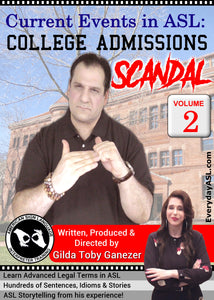 Brand New! Current Events in ASL: College Admissions Scandal Vol. 2
$32.00

$32.00

Save $37.95
---
---
Current Events in ASL: College Admissions Scandal, Vol. 2 DVD set takes you to even a higher level.

Finish all your intensive training on all facets of College Admissions Scandal affecting millions of students and their families. This 2nd volume film will continue to teach you how to receptively and expressively convey complicated and advanced ASL words, slang, sentences, stories and more.
Each film will teach every viewer with the help of easy-to-follow visual aids and complete ASL translations.
A must have for every teacher, interpreter, advanced students, families and professionals.
Benefits from this film are: 
Learn how to avoid common errors translating controversial topics in ASL
Optimized for ASL interpreting performance tests, ASL evaluation tests, ASL Proficiency Interviews (ASLPI / SCPI) etc.
Easy-to-follow Bilingual training
ASL signs are seen and used in Deaf Community
Learn from Deaf ASL Professors
Like with most of our training videos, this film will have no audio for training purposes and are open captioned for convenient learning experience.