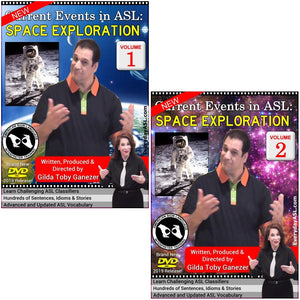 Brand New 2-DVD Set - Current Events in ASL: Space Exploration Vol. 1-2
$24.00

$24.00

Save $101.75
---
---
Wormhole, International Space Station, galaxy, flyby satellites taking photos of a Moon surface, space vacuum, constellation, colonization, Aurora Borealis, teleportation, black hole, zero gravity, lunar module – how do you sign them like a master in ASL? Learn with hundreds truly challenging and resourceful ASL words, phrases, classifiers and sentences about Space Exploration, which is now becoming one of the most discussed topics across news outlets, schools and families today.

Also, there are stories throughout the 2-DVD set that will be astonishingly revealed!!!!
Benefits from 2-DVD set:


Advanced words and phrases along with variations
Gain skills of rapidly recognizing, understanding and translating advanced words, phrases, idioms along with some complex sentences
Words and phrases taught will cover some of the most important topics covering Space Exploration
Excellent for interpreters, families, teachers, counselors and more
Prepare especially best for ASL interpreting performance tests, ASL tests, ASL Proficiency Interviews (ASLPI / SCPI) etc.
Clear and easy-to-follow Bilingual training with large prints
Learn latest ASL signs seen and used in Deaf Community
Learn from Deaf ASL Professor
Like with all our training videos, all videos will have no audio for training purposes. All brand new DVDs will be in eco-friendly DVD sleeves to help customers save money. Each disc is clearly labeled for your convenience. The pictures shown above are for illustration only and are not printed on any DVDs. Once the DVD ships, you will receive tracking information via email at no cost.