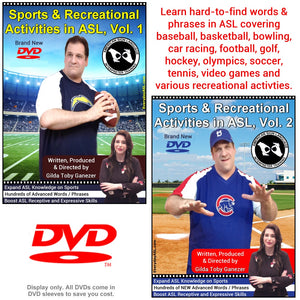 2-DVD Set: Sports & Recreational Activities in ASL, Vol. 1-2
$24.00

$24.00

Save $130.75
---
---
Brand new 2-DVD Set for 2021! Nearly FOUR hours of intensive training throughout the 2 DVDs!
Did you know that sports is super-HUGE throughout all parts of Deaf community? Basketball tournaments, fitness, school gym situations, baseball games, extracurricular / after school activities, Olympic events, card / board games, college football, bowling meets and countless other sporting and recreational events are packed and even immersed with Deaf people - that's where they interact and make new friends, gain connections and plenty more. So...Don't get left out or lose out on hard-to-find signs that are not taught in classes, dictionaries or such - learn from the best throughout the comprehensive 2-DVD set. As Deaf educators ourselves, we have had plenty of frustrations with interpreters, teachers and families not being able to communicate about these topics. This set would help you curb that frustration, easily.
We are pleased to announce a brand new "Sports & Recreational Activities in ASL, Vol. 1-2" 2-DVD set containing over hundreds and hundreds of hard-to-find words / phrases about the world of sports and recreation. 
This DVD set will teach every viewer with the help of easy-to-follow visual aids and complete ASL translations.
A must have for every teacher, interpreter, advanced student, school, family and professional.
Benefits from this 2-DVD set are: 
Learn and understand hard-to-find complex words and phrases covering various sporting events and recreational activities
Expose and gain hands-on experience how to describe various plays known to specific sport categories
Clear and organized index / list of words / phrases about sports and recreational activities; perfect for training courses and self-study plans
Excellent for interpreters, families, teachers, students and more
Optimized for ASL interpreting performance tests, ASL evaluation tests, ASL Proficiency Interviews (ASLPI / SCPI) etc.
Easy-to-follow Bilingual training
ASL signs are seen and used in Deaf Community
Learn from Deaf ASL Professor
First Time Ever shown in

4K Ultra HD
Like with all our training videos, all DVDs have no audio for training purposes and are open captioned for convenient learning experience. All brand new DVDs will be in eco-friendly DVD sleeve to help customers save money. Each disc is clearly labeled for your convenience. The pictures shown above are for illustration only and are not printed on any DVDs. This is a very popular brand new DVD set, please allow 2-1/2 to 3 weeks before shipment. Once the set ships, you will receive tracking information via email at no cost.